Article, News
SpinDance Turns 20: A Look at the Past, Present, and Future
October 15, 2020
This year, SpinDance is celebrating two decades of spinning. Our company commemorates this anniversary by recapping our history, acknowledging the journey — both successes and challenges — and casting a future vision.  
Recently, we spoke with the owner and chairman, Mike Ellis, who shared his highlights of the company's 20-year journey. Let's take a look. 
How It All Began
In 2000, Ellis decided to sell a business and move from Seattle to West Michigan, where his family roots are. After returning, the successful entrepreneur reconnected with his colleague and previous business partner, Karl Schripsema.
Ellis and Schripsema joined forces but couldn't decide on a product offering. Initially, they considered developing games for phones. But since this idea pre-dated smartphones, there wasn't much profit in it at the time. So, they failed fast to learn fast. And like most entrepreneurs, they understood failure as a commonality of business, which meant this didn't deter the two professionals; rather, it refocused their energy on other possible products. 
While considering alternatives, the two started contracting software development services to fill the gap, with Johnson Controls as the first customer. And as one project led to another, the owners soon found themselves regularly consulting companies on software. They then realized that the majority of their projects held one thing in common: IoT development.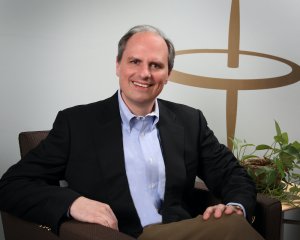 Mike Ellis, 2000
The Naming Game 
Now, a common question is this: why the name SpinDance? Well, the entrepreneurs weren't sure what their end product would be, so naming was considerably tricky. Like any pioneer and problem-solving engineer, Schripsema decided to write a software program that combined individual words and checked to see if the domain for these new words was available. Both men fed the program a variety of words they found intriguing. First, "spin" was fascinating because it represents motion, and "dance" also struck a chord given that collaboration is necessary for a dance. Thus, from these two ideas, they selected the name SpinDance.

Making Space
Originally located near 16th Street and Interstate 31 in Holland, Michigan, SpinDance rented small space in a larger building for its first two employees. For the next six years, this little office was home. However, with continued growth, the company outsized locations three times. And in 2019, SpinDance finally relocated to its current headquarters on 8th Street above the Holland Arts Council.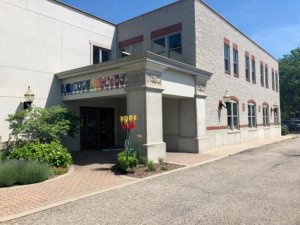 SpinDance, 150 E. 8th Street, Holland, MI
In addition to changing physical spaces over the years, SpinDance has extended its staff to include remote team members who are scattered across the United States. Offering remote work options gives the company the option to acquire the best talent in software engineering.
Family Growth
In 2001, SpinDance acquired Crayon Interface. This acquisition brought exciting new projects and employees, like a remote car start, eventually known as CarLink and added software engineers.
In 2018, following Schripsema's retirement, a leadership team was also formed to provide a better foundation and added support for a highly functional and interactive team. Current leaders include Tom Miller, President, Brian Tol, VP of Engineering, and Kim Burmeister, VP of Customer Experience.
Ellis fondly recalls annual leadership meetings where they discussed ways to grow to a mere four customers. Now, 20 years later, SpinDance has a strong reputation in software development, serving ten times its initial customer pool. Notable companies include Limelight, Twisthink, Voxx Automotive, Whirlpool, Genie, and Gordon Food Service. 
Product Experiments and Innovations 
Soon after establishment, SpinDance attempted to solve a unique challenge: finding a way to limit children's time on video games. The team rallied around the product "Play Limit." This device sat between a gaming console and a monitor (aka a television set.) The design allowed users to feed it one token, which granted fifteen minutes of play. The premise was to have children earn tokens and screen time through chores or good behavior. SpinDance ended up selling between 3,000 and 4,000 units in a few short years (a moderate success at the time.)
Other product attempts over the years included the Whaledrop, a system for sending large files to people, a concept similar to today's Dropbox. The company took a different approach to it, probably not the right approach, so that didn't work out. But lessons were learned. 
With the acquisition of Crayon Interface and a partnership with local company Twisthink, SpinDance developed a project called Doorman, later named InfiniteKey. This device allowed consumers to lock and unlock cars remotely. 
Additionally, early projects with JCI involved supporting connectivity to vehicles via Bluetooth and using Java. At the time, JCI didn't have much experience with higher-level software development. But there was a belief that Java was the future, so we experimented. SpinDance developed an infotainment system written in Java and later worked on rear-seat entertainment products. SpinDance also performed work around Bluetooth helping to optimize the hands-free profile. While developing customizations in the Bluetooth stack, SpinDance also did a significant amount of voice tree work—creating a simulator to help stimulate different voice interactions. 
Creating a Fun Culture
SpinDance has also committed to creating a culture of fun and collaboration—all thanks to the first hired employee, who humorously referred to himself as "Chief Fun Officer." He organized engaging events like movies and games. And today, his tradition continues with the help of the SpinLife Guild. This team of employees organizes trivia, group movie outings, laser tag, Thirsty Thursdays, cornhole competitions, and more. This year, SpinDance will host a virtual employee appreciation day to celebrate this anniversary with the team, consisting of approximately 40 software engineers, project managers, and business administrators.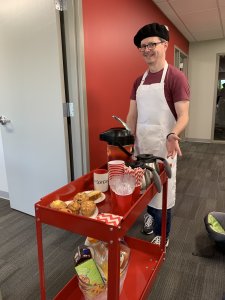 Dean Martin, Engineering Manager
As he reflects on the past 20 years, Ellis takes pride in the team. He knows everyone's collaboration and adherence to company values provide customers with out-of-the-box solutions. So he finds this most gratifying and recognizes these two things are the foundation of SpinDance's success. After all, SpinDance signifies a place of opportunity where people can contribute and make a meaningful difference.
10-Year Vision
In another decade, the SpinDance family of companies will have served 1,000 businesses and developed IoT software programs used by over a million people. We will achieve this by completing 1,000 software development projects, training 10,000 people, and launching ten new ventures from our new venture builder, SpinDance Labs.
Our work will positively impact people because they will be empowered to make better choices and obtain better results with less effort. Not only that, but our work will also contribute to a cleaner, safer, and happier world. These outcomes are what ten more successful years of spinning looks like to us at SpinDance.
From a small start-up to a multi-million dollar software development company, the future appears brighter than ever. Throughout these years, all of our success wouldn't have been possible without our esteemed employees, customers, and partners' continuous efforts. To everyone past, present, and future—we thank you. 
Cheers to the next 20 years of spinning and innovating together!