Article, News
Smart IoT platform 'Seagull' to usher in a new era of Great Lakes understanding for all
January 5, 2022
The future of how the region collects and uses Great Lakes data is on the cusp of a change. As we face challenges, including a rapidly evolving shoreline and yearly harmful algal blooms, many people are turning to smart, connected technologies for solutions. The time is right for an upgrade to the way we understand the water around us. 
The Need for Shared Data
Thirty-four million people in Canada and the United States fish, boat, drink, swim, and otherwise depend on Great Lakes water for life. What happens in the water affects the weather, the economy, and peoples' health. 
Those who live near the lakes experience firsthand how wave size impacts swimmer safety, how an algal bloom impacts tourism, or how changes in lake levels and temperatures affect the environment, wildlife, recreation, and property. 

Monitoring the water requires a massive, region-wide community, or "observing system," of people, technologies, and organizations that are always collecting and analyzing terabytes of data about the water and the lake environment. Dozens of buoys, underwater gliders, and shore stations take real-time wind speed measurements, wave height, and air temperature. Satellites capture images to monitor water conditions over massive areas. Researchers in the field take water samples from boats and docks to monitor hazardous harmful algae and chemical properties. And computer modelers bring these observations together to generate forecasts. 
All of this data has been collected for decades but historically has been accessible primarily to those with subject matter expertise or a connection to a particular researcher via private servers, hard drives, or institution-specific websites. And for many researchers, collecting and sharing data and information in a way that is understandable by the broader public is simply too expensive or beyond the scope of their project. 
Today, as more people look for better ways to access data about the lakes, many researchers are also working on expanding the observing system and sharing critical data and information with wider audiences in real-time. These needs come at a time of rapid expansion of smart, cloud-based internet of things (IoT) technologies that can dramatically improve how the region understands the lakes.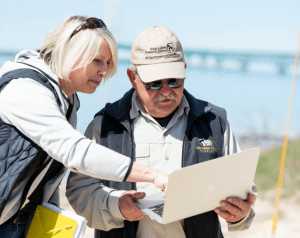 "Our users are becoming increasingly savvy.  We needed a solution that brings together data and information in an accessible platform for a wide range of users who want to consume information but also contribute data," says Tim Kearns, CIO of the Great Lakes Observing System (GLOS). "One of the core tenets of this new platform is to simplify and automate the transformation of Great Lakes raw data into contextual and actionable information users could understand and interpret quickly." 
The Seagull Project
GLOS is a nonprofit that exists to provide end-to-end data services that support science, policy, management, and industry in the Great Lakes. Part of the NOAA-funded Integrated Ocean Observing System (IOOS), GLOS, puts high-value Great Lakes environmental data in peoples' hands. 

To make Seagull a reality, the GLOS team needed partners with water data expertise and an understanding of building cloud-based, IoT software solutions at the platform level so that Seagull could scale and change with the region's needs.
To address the need for a unified system, GLOS selected IoT solutions provider SpinDance and global professional services firm RPS Group to develop Seagull, a state-of-the-art platform for harvesting and serving freshwater data and information about the Great Lakes.
"We needed partners who understood what we are trying to do and who were just as passionate about building systems of high-quality, actionable information as we are," says Kelli Paige, CEO of GLOS.
Holland, Michigan-based software consulting firm, SpinDance, was selected by GLOS to lead the Seagull platform's design and development. Located along the western shore of Lake Michigan, the development company is both a stakeholder and a partner. SpinDance will leverage their expertise in the design and development of cloud-first IoT platforms to create a cutting-edge system that can transform the way GLOS ingests, manages, and serves data. 
"SpinDance's deep care for the environment and the Great Lakes makes the project of specific interest to us," explains Kim Burmeister, Vice President of Customer Experience at SpinDance. "We see firsthand the impact the Great Lakes have on both the economy of our region as well as the ecology and topography. Partnering in the Seagull project is a natural evolution for our organization."
To complement the skillset at SpinDance, GLOS brought on RPS, a GLOS partner for more than ten years. RPS shares a passion for what the Seagull project aims to achieve and has a history of understanding and using Great Lakes data. The group has vast experience in the management of big data, specifically with environmental databases and formats.
RPS will support Seagull by providing scientific consulting on these multi-dimensional data ensuring the effective translation into a scalable environmental data management and visualization system.
"When you empower the community with user-friendly scientific data, the possibilities become limitless for how that data is utilized and taken to the next level," Kelly Knee, Executive Director Ocean Science at RPS North America, points out. "RPS is proud to be a part of the Seagull project and is excited to help make the complex Great Lakes marine data accessible and easy for anyone to understand."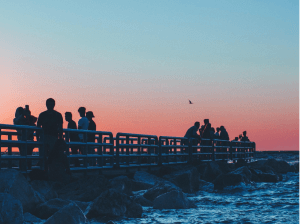 A Platform for All
To support the diversity of monitoring efforts across the region, Seagull supports data in various formats from hundreds or thousands of sources, including buoys, models, and other streaming data types. 
Seagull will allow anyone to search topics easily, navigate a Great Lakes map, query and visualize data and trends, and share findings. A flexible API will enable users to connect another app to Seagull, providing access to all of the datasets through a simple connection point. Customizable alerts will allow, for example, a user who wants to know when conditions are ripe for an algal bloom to set and receive alerts on their phone when those conditions arise.
Seagull will be available as a web application, with the potential for mobile apps in the future. The Seagull experience will be information-centric and intuitive, making it easy to discover, understand, and share results. A user will simply need to visit the website, search for a type of information, or zoom into their area of interest, and easily pick what they want to take a look at—such as a buoy or a water current forecast. Connecting a data source to Seagull will be easy, too, with special care given to simplify how device owners update metadata and upload data.
When complete, Seagull will make actionable, real-time insights available on-demand and make contributing data a possibility for more observers than ever before.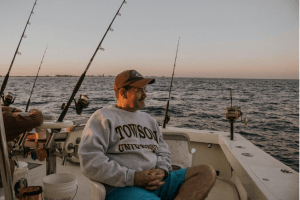 "The experience of using Seagull will be simple and delightful," said Kearns. "We want to enable a sense of exploration, ownership, and connection with a user's favorite stretch of water." 
Seagull's data onboarding capabilities will allow anyone to connect their observing device or other data source to Seagull. Public data will be shared with thousands of others throughout an area, including researchers, water utilities, and boaters. Seagull's standardized, accurate metadata means it will be easy for anyone to search and discover data, devices, and projects and create opportunities to connect and collaborate. Those contributing data will be able to monitor their fleet of devices to see trends and ensure each component is healthy and performing well. 
Seagull's cloud-first, IOOS-certified platform will provide real-time Great Lakes information for the entire region. It is designed for future growth and development, which will bring in new users, enable new types of partnerships, and spur technology development to lower the cost and complexity of hardware deployment and integration.
With the expertise of SpinDance and RPS and by leveraging advanced technologies, GLOS is pushing the boundaries of traditional Great Lakes data harvesting and access into the future.
A New Era of Great Lakes Understanding
Seagull is now in final development with a full public launch scheduled for sometime in April/May 2o22. A limited release went live in July 2021 with a public beta release operating from September 2021 through April 2022.  
In the meantime, partners throughout the region are advancing the area's observing and technology capabilities as part of the Smart Great Lakes Initiative, the effort that sparked the creation of Seagull.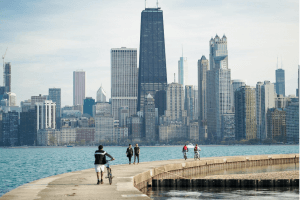 We're excited to be able to equip more observers with high-quality lake information, available at their fingertips, and empower more of them to become data contributors themselves. This system will bring a new era of Great Lakes understanding and a chance for observers of all sorts to connect with and monitor the water in new ways.
"We hope this technology will help catapult us all into a new era of connected Great Lakes science, safety, recreation, and smart decision-making," Paige says. "And we can't wait."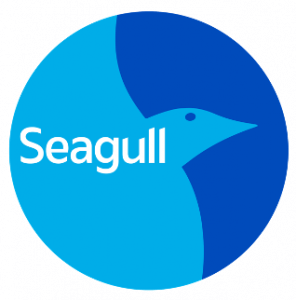 Learn more about Seagull and sign up for updates at glos.org/seagull