Awards, News
SpinDance Named "IoT Partner Enablement Company of the Year" in 2022 IoT Breakthrough Awards Program
January 14, 2022
The Prestigious Annual IoT Breakthrough Awards Program Recognizes Standout Internet-of-Things Companies and Products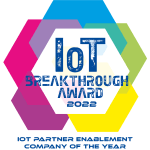 We are very pleased to announce that SpinDance has been selected as "IoT Partner Enablement Company of the Year" in the 6th annual IoT Breakthrough Awards program conducted by IoT Breakthrough, a leading market intelligence organization that recognizes the top companies, technologies, and products in the global Internet-of-Things (IoT) market today!
In case you aren't familiar with what we do, SpinDance designs and hosts custom software applications that connect people and the intelligent products they use with distributed networks and data for end-to-end IoT solutions. Our specialized expertise in IoT enables solution-oriented consulting services that empower customers to realize success early in their IoT journey.
Our custom system design and software development encompass device, cloud, web, mobile, desktop, and hosting. Services include IoT training, IoT Consulting, Reviews & Assessments, Software Architecture & Design, IoT Development, IoT Innovation, and IoT Maintenance.
Additionally, SpinDance customers benefit from insights about product utilization through powerful analytics. By using deeper, predictive analytics our team of IoT experts, and advanced technology, our customers can quickly look toward a next-level solution.
---
See Some of Our Amazing Projects and Partnerships!
---
"Smart consumer products and devices must interact effortlessly with many separate components, platforms, and vendors – an increasingly complex IoT environment, "said James Johnson, managing director at IoT Breakthrough. "The single-minded focus on IoT differentiates SpinDance from other software development companies that may lack the depth and breadth of expertise to successfully facilitate IoT projects. Their ability to simplify the complex and connect the physical to the invisible makes them a clear choice for 'IoT Partner Enablement Company of the Year' in the 2022 IoT Breakthrough Awards program."
The mission of the IoT Breakthrough Awards program is to recognize the innovators, leaders, and visionaries from around the globe in a range of IoT categories, including Industrial and Enterprise IoT, Smart City technology, Connected Home, and Home Automation, Connected Car, and many more. This year's program attracted more than 3,850 nominations from companies all around the world!
"Customers often ask us how SpinDance differentiates itself from the crowded field of IoT service providers. The answer is simple: we focus on IoT.  That focus has allowed us to develop a time-tested proven process for building data-rich connected devices and associated cloud services," said Brian Tol, VP of Engineering, SpinDance. "We are overwhelmed by this recognition from IoT Breakthrough! We understand firsthand how difficult it can be to launch a successful product or service, especially when facing many different development priorities. That's why we're different – we are only IoT – that's how we spin, and we are committed to making you successful from the very beginning of your journey."
---
Contact Us For All Your IoT Needs!
---
About SpinDance, Inc.
SpinDance is an end-to-end IoT Systems Integrator focused on getting products connected to people in a meaningful way.  SpinDance's areas of expertise include embedded, cloud, fog, mobile, desktop, and web and are rooted in deep history with custom software development. SpinDance offers resources as projects or as on-demand staff augmentation and delivers support for customer software applications to extend application life and value.
About IoT Breakthrough
Part of the Tech Breakthrough, a leading market intelligence and recognition platform for global technology innovation and leadership, the IoT Breakthrough Awards program is devoted to honoring excellence in Internet-of-Things technologies, services, companies, and products. The IoT Breakthrough Awards program provides a forum for public recognition around the achievements of IoT companies and products in categories including Connected Home and Home Automation, Connected Car, Industrial IoT (IIoT) and Smart City, Consumer IoT, and more. For more information visit IoTBreakthrough.com.